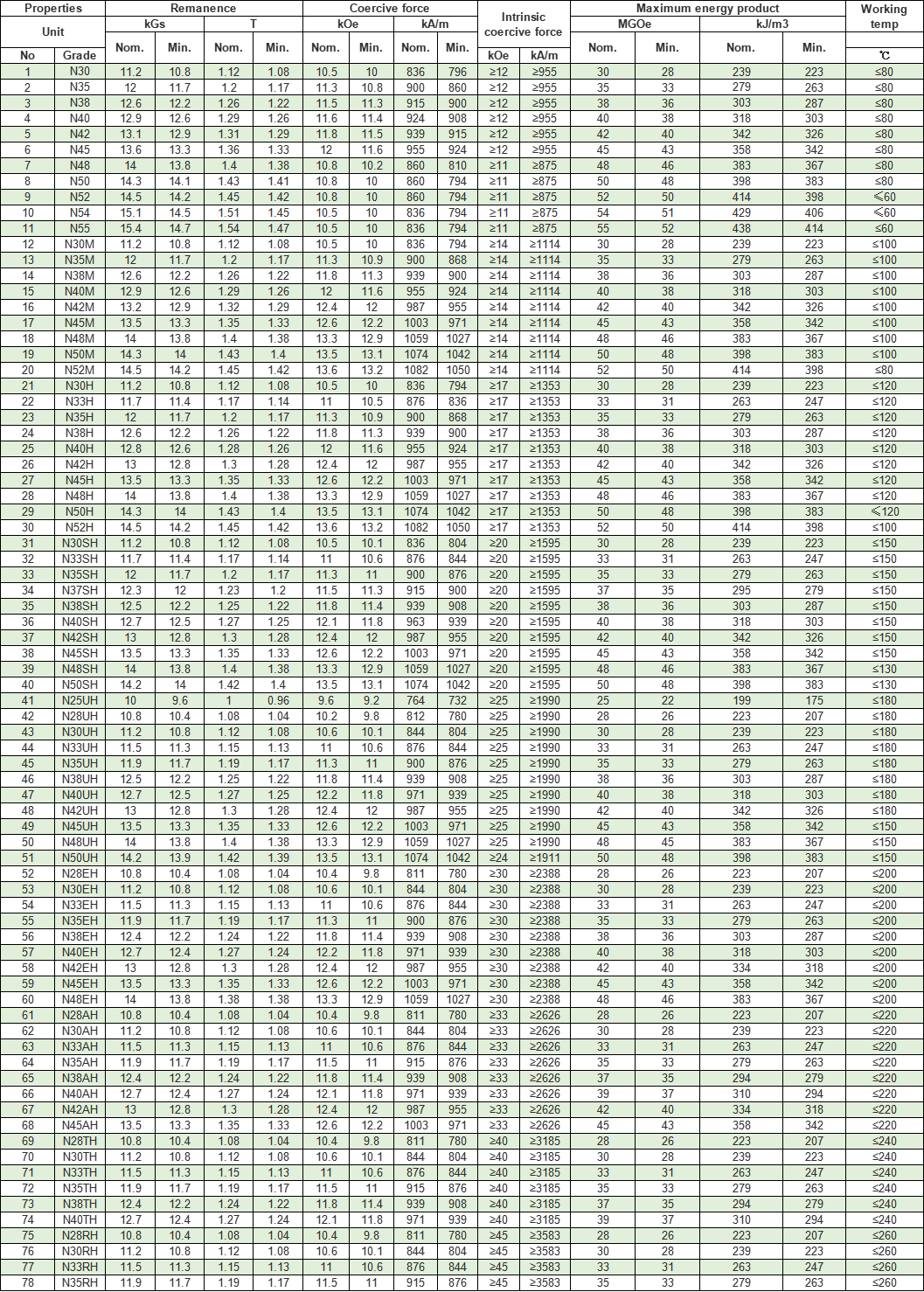 Neodymium Magnet Applications
Neodymium magnets wholesale is used in a wide range of applications and is perfect for small parts and components. Typical applications range from art, crafts, and model making to motors and generators, medical instruments, audio components, science & research, etc.
What Are Neodymium Magnets Used For
Electric Motors and Generators: Ndfeb neodymium magnets are widely used in electric motors and generators, especially in applications that require high power and efficiency, such as permanent magnet motor generators. They are found in various devices, including electric vehicles, hybrid vehicles, industrial motors, and power tools.
Audio Equipment: Magnet audio is used in speakers, headphones, microphones, and other audio devices to produce high-quality sound with improved efficiency and reduced size and weight.
Magnetic Separators: Ndfeb neodymium magnets are utilized in magnetic separators to separate and remove ferrous materials from different substances, such as in recycling processes, food processing, and mining operations.
Magnetic Fasteners and Closures: Ndfeb neodymium magnets are used in magnetic fasteners, such as door catches, cabinet latches, magnetic clasps for jewelry and bags, and magnetic closures for various applications.
Magnetic Resonance Imaging (MRI) Machines: Ndfeb neodymium magnets play a critical role in MRI machines, creating the strong magnetic fields needed for detailed imaging of the human body.
Magnetic Toys and Educational Tools: Ndfeb neodymium magnets are used in magnetic toys, educational kits, and science demonstrations to showcase the properties of magnetic fields and encourage learning about magnetism.
Aerospace and Defense: Ndfeb neodymium magnets find applications in aerospace and defense industries, including radar systems, sensors, actuators, and magnetic bearings.
Magnetic Levitation (Maglev) Trains: Neodymium magnets are used in Maglev trains, where magnetic levitation is employed to eliminate friction between the train and the tracks, resulting in high-speed transportation.
Wind Turbines: Neodymium magnets are used in the generators of wind turbines, allowing for efficient conversion of wind energy into electricity.
Robotics and Automation: Neodymium magnets play a crucial role in robotics and automation systems, providing compact and powerful actuation and control in various robotic applications.
Green Technology: Neodymium magnets are used in green technology applications, such as in electric vehicle powertrains, wind turbines, and other renewable energy systems, such as magnet recycling.
Are Neodymium Magnets Safe
Ndfeb neodymium magnet can be safe when handled with proper care and precautions. However, there are also present certain neodymium magnet health risks due to their strong magnetic properties. Here are some important points to consider regarding neodymium magnet safety:
Handling Hazard: Ndfeb neodymium magnets have a strong magnetic pull and can snap together with significant force if two magnets or a magnet and a ferrous object come into contact unexpectedly. This can lead to pinching or crushing injuries, especially if fingers or other body parts get caught in between.
Swallowing Hazard: Ndfeb neodymium magnets are small and can be easily swallowed, particularly by young children. If multiple magnets are ingested, they can attract each other within the digestive system and cause serious internal injuries, such as blockages, perforations, or twisting of the intestines. Ingestion of magnets is a medical emergency and requires immediate attention.
Electronic Devices: Ndfeb neodymium magnets can interfere with and damage electronic devices, including smartphones, laptops, credit cards, and pacemakers. Keep them away from such devices to avoid potential damage.
Fragile and Brittle: Ndfeb neodymium magnets are brittle and can break or chip easily if they collide with each other or with a hard surface. Broken fragments can be sharp and cause injury.
Heat and Fire Hazard: Ndfeb neodymium magnets can lose their magnetic properties if exposed to high temperatures, which may occur during machining or soldering. Additionally, they are flammable and can ignite if exposed to high temperatures for an extended period.
To use neodymium magnets safely:
Always handle Ndfeb neodymium magnets with care, and avoid allowing them to snap together, especially near fingers or other body parts.

Keep neodymium magnets out of reach of small children and pets to prevent ingestion.

Store them away from sensitive electronics and devices that could be affected by magnetic fields.

Do not attempt to cut, drill, or machine the magnets without proper equipment and safety precautions.

If you suspect that a neodymium magnet has been swallowed, seek medical attention immediately.

In summary, neodymium magnets can be safe when used responsibly and with awareness of their potential hazards. By following safety guidelines and handling them cautiously, the risk of accidents and injuries can be minimized.