About Souwest Magnetech Magnetic Liquid Traps and Its Features
Souwest Magnetech Magnetic Liquid Traps General Description:
Magnetic liquid traps or magnetic liquid filters are designed for liquid or semi-liquid flow systems to remove ferrous contamination from liquid with different viscosity levels. They preserve product purity by removing small contaminants and provide magnetic protection for liquid lines and processing equipment.
Souwest Magnetech Magnetic Liquid Traps Feature:
Many different styles are available for different materials.

The max magnetic strength can reach 12,000GS for N-style and 8000GS for E-style.

Standard working temperature ≤ 80℃, max working temperature can be chosen from 80℃ to 350℃ as the same with magnetic bars if needed.

The connection can be through a ferrule, bolt plate, flange, or uneven head.

Stainless steel 304 or 316L is available for shell material.

The property-designed magnetic configuration ensures maximum magnetic effect without impeding liquid flow.

Pressure design or other special requirements can be custom-made.
How do Souwest Magnetech magnetic traps work?
Magnetic traps, also known as magnetic filters or magnetic separators, are devices used to capture and remove ferrous (iron-based) and paramagnetic particles from various substances, such as liquids, gases, or bulk materials. These traps work based on the principles of magnetism to attract and retain magnetic particles, allowing the clean substance to pass through without any magnetic impurities.
The basic working principle of magnetic traps involves the following steps:
Magnetic Field Generation: Magnetic traps contain strong permanent magnets or electromagnets that generate a magnetic field within their vicinity. The magnetic field lines extend from the magnets and create a region of magnetic influence.

Particle Attraction: When a substance containing ferrous or paramagnetic particles passes through the magnetic trap, these magnetic particles are drawn towards the strong magnetic field lines. The magnetic force overcomes the gravitational or flow forces acting on the particles, causing them to be captured and held onto the trap's surface.

Particle Retention: The captured magnetic particles adhere to the surface of the magnetic trap, staying in place even when the substance continues to flow. The trapped particles create a barrier that prevents other magnetic impurities from passing through.

Clean Substance Passage: As the clean substance flows through the magnetic trap, the non-magnetic materials continue their normal path, while the captured magnetic particles remain immobilized on the trap's surface.

Cleaning and Maintenance: Over time, the magnetic trap accumulates a buildup of trapped particles. Periodically, the trap needs to be cleaned or purged to remove the captured magnetic impurities, ensuring its continued effectiveness.

Magnetic traps find application in various industries, such as food processing, pharmaceuticals, chemical manufacturing, mining, and recycling, where removing magnetic impurities is essential to maintain product quality, prevent equipment damage, and ensure safety and regulatory compliance.
Specification of Souwest Magnetech Magnetic Trap
Souwest Magnetech N-style Magnetic Liquid Trap: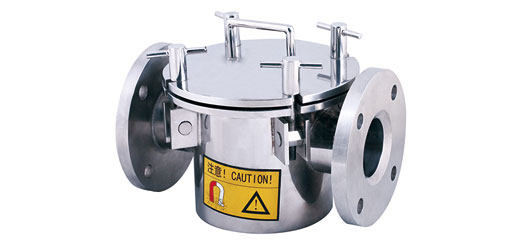 Magnetic strength: Up to the highest 12000GS(1.2T)
Souwest Magnetech E-style Magnetic Liquid Trap:

Magnetic strength: The highest is 8000GS(0.8T)
Model No.

Dimension (mm)

No. of bars

Weight(Kg)

ΦA

ΦB

C

D

SWFL150/25

159

32

167

300

5

12

SWFL150/32

159

38

167

300

5

17

SWFL150/40

159

45

167

300

5

18

SWFL150/50

159

57

167

300

5

21

SWFL150/65

159

76

167

300

5

23

SWFL200/50

200

57

206

350

7

27

SWFL200/65

200

76

206

350

7

29

SWFL200/80

200

89

206

350

7

30

SWFL200/100

200

108

228

350

7

33

SWFL250/80

250

89

250

400

9

40

SWFL250/100

250

108

250

400

9

42

SWFL250/125

250

138

250

400

9

44

SWFL250/150

250

159

300

400

9

50

SWFL300/125

300

138

300

450

9

58

SWFL300/150

300

159

300

450

9

62

SWFL300/200

300

219

346

500

9

72
Souwest Magnetech Insulation Style Magnetic Liquid Trap: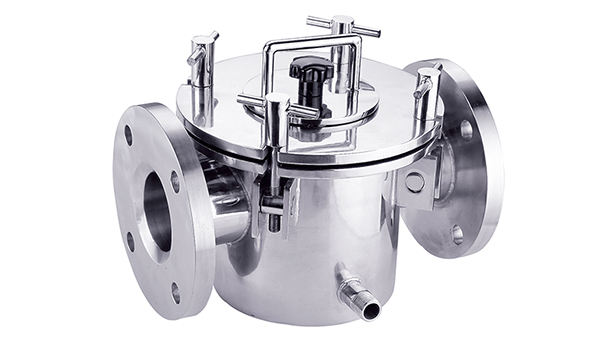 Insulation Style Liquid Traps or Filters have a jacket filled with hot water or oil to keep liquid warm enough when it passes through the traps. The ideal choice for chocolate, syrups, jams and sauces to remove ferrous contamination.
Model No.

Dimension (mm)

No. of bars

Weight(Kg)

ΦA

ΦE

ΦB

C

D

SWFL125/25

125

168

32

185

300

5

21

SWFL125/32

125

168

38

185

300

5

22

SWFL125/40

125

168

45

185

300

5

23

SWFL125/50

125

168

57

185

300

5

24

SWFL125/65

125

168

76

185

300

5

25

SWFL160/50

160

219

57

220

360

7

32.5

SWFL160/65

160

219

76

220

360

7

34

SWFL160/80

160

219

89

220

360

7

36

SWFL160/100

160

219

108

220

360

7

37.5
Magnetic Liquid Trap with Clamp Connection:


Magnetic Strength: Up to the highest 12,000GS(1.2T)
Option: ○General Type ○Food Grade Welding. (PS: you can choose the type that you need.)
Model No.

Dimension(mm)

No. of Bars

A

B

C

D

E

F

G

SW-OS15-25

1.5S

35.7

4.5S

130

114.3

330

180

5

SW-OS20-25

2S

47.8

4.5S

130

114.3

330

180

5

SW-OS25-25

2.5S

59.5

5.5S

155

139.8

420

205

7

SW-OS30-25

3S

72.3

5.5S

155

139.8

420

205

7

SW-OS35-25

3.5S

85.1

5.5S

155

139.8

420

205

7